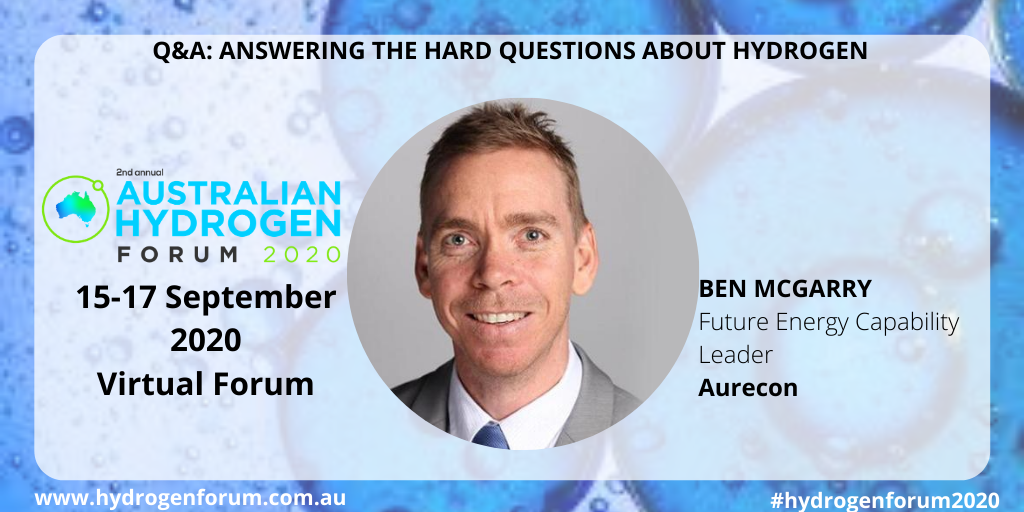 In the lead up to the Australian Hydrogen Forum, we interviewed one of our keynote speakers, Aurecon's Future Energy Capability Leader, Ben McGarry. Aurecon have been involved in a number of leading hydrogen projects across the spectrum of the supply chain, putting Ben in a unique position to discuss the challenges and opportunities the technology presents.
Ben's view of hydrogen yields some surprising answers to the hardest questions; for example he anticipates a limited role for hydrogen as a replacement gas for heat intensive manufacture. Ben sees the export market as more than just an essential element in the development of a hydrogen economy, noting that "Australia can truly influence global carbon emissions at scale."
Read on for more….
1. Does Aurecon see hydrogen as a replacement gas for heat intensive manufacture or as part of an electrification of energy in Australia?  
Where hydrogen can be generated on site or is already there for another use, it could potentially displace natural gas for high temperature, heat intensive processes (for example addressing "difficult to abate" manufacturing and minerals processing emissions, such as for iron/steel, cement and alumina). In Australia, hydrogen is unlikely to become a mainstream fuel for power generation at least in the short to medium term. However, it will find application in specific situations like remote locations or where it can be produced in excess and at very low cost. Hydrogen or derivative chemicals/fuels will likely be more commonplace in countries where renewable power generation isn't as prevalent, as a transportable store of renewable energy.
2. Will hydrogen flounder without government initiatives to support its development? 
Currently hydrogen industry advocates are seeking support over the full use case profile and as such hydrogen must compete against a variety of different technologies in each segment.  The reality is that some applications make more sense than others and coordinated support of applications will result in a faster and more successful uptake by achieving the required economic scale faster.  Where this focused government policy or support doesn't occur, the industry may find itself competing with itself for funding, technology and capability (talent) with the result of doing many things badly instead of fewer things well and delaying achieving critical scale and competitive economics.
3. How important is the export market in driving the financial viability of hydrogen for Australia?
The export market is hugely important. A solely domestic-focused Australian industry will struggle to overcome the 'infrastructure gap' – the chicken and egg cycle of lacking either supply or demand at any one time.  The export potential of hydrogen will help attract investment without the need for domestic demand, while fostering local development and advancement of capability including new skills and industries, and value-added manufacturing and export products like green steel.
4. What are the specific advantages Australia has as a potential producer/exporter of hydrogen?
Aside from the obvious advantages of access to globally significant, large scale renewable energy resources, and demand for hydrogen from existing trading partners in relatively close proximity in Asia, Australia already has an export mindset, and indeed an export dependency.  Australia can truly influence global carbon emissions at scale beyond just exporting hydrogen - it can combine its wealth of iron ore and renewable energy to become the centre of global green steel manufacture, undercutting competitors that aren't blessed with the same riches of resources or the same proximity to markets.  For example, as customers look to include carbon neutral materials in their products and infrastructure, green steel, made from hydrogen based on renewable electricity, which in turn replaces metallurgical coal in the iron and steeling making process, will become increasingly available and will command a premium price.
5. How can Australia overcome infrastructure issues?  
One of the keys to overcome infrastructure challenges is to design out the need for them in the first place.  Hydrogen offers capacity to generate power from both close and far from power generation (i.e. making use of our extensive electricity network) and this flexibility should allow us to plan industry growth that lessens the demand on infrastructure bottlenecks.  As an example, you can opt to convey hydrogen in gas form in a gas network, or (effectively) in electrical form in the electricity grid, depending on available capacities and costs of the respective transfers across the networks. A potential hydrogen industry also presents the opportunity to justify investment into some areas of infrastructure which will provide benefit beyond the individual hydrogen prospect, such as large-scale renewable energy zones and other coordinated energy infrastructure buildout.
6. How long will it take for a full scale hydrogen economy to develop?  
It depends on the definition of a 'hydrogen economy'.  You could say that there is already an active and rapidly evolving hydrogen market place, but looking specifically at a green hydrogen market (or other 'shades') it will take several years at a minimum, closer to 10 years for competitive scale to be achieved (i.e. subsidies eliminated).
7. What emerging hydrogen technologies do you find most exciting?
Hydrogen for mobility is a low-emissions technology that will capture the masses by being a visible part of our everyday lives, but in terms of overall impact, it is the industrial applications that are most exciting. Decarbonising our emissions-intensive industrial production is the 'holy grail' of a zero-carbon future. Here, we can have the greatest impact in reducing large scale carbon emissions, while reimagining the industry of the future. Green ammonia as an energy carrier is also very interesting and offers a huge potential based on current or very near-term technologies.  It is also exciting to imagine Australia stepping up and grabbing the domestic and global opportunities presented by green steel manufacturing in Australia using hydrogen.
---
You can hear more from Ben McGarry at the Australian Hydrogen Forum 2020.
Connect virtually from 15-17 September, and you'll interact live with speakers and your industry peers.
The forum is more than just a live stream. You'll be at the centre of the discussion, with integrated valuable content, idea sharing and virtual networking with the amazing speakers and audience.